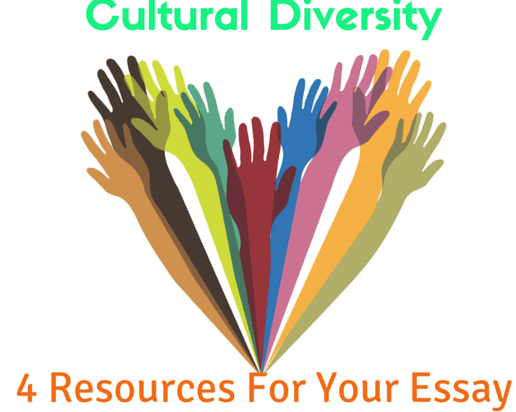 By: Marie Fincher
September 11, 2015
Cultural Diversity Essay
As the world is becoming smaller, it is increasingly more common for instructors to ask students to demonstrate their understanding of other cultures by writing a cultural diversity essay. The topic of cultural diversity is very important because the majority of students will live and work with people from at least one other culture, if not several. In fact there are few career fields that are not impacted by the need to be both culturally aware and culturally sensitive. The question is, how can a student learn more about culture diversity? After all, what is cultural diversity? In this posting we will begin by defining cultural diversity and then by reviewing some great online resources you can use when researching this topic.
Cultural Diversity Definition
Cultural diversity is both the differences in cultures in a community, school, workplace, or other institution, and the need to be inclusive of all cultures. This includes treating members of various cultures equally.
World Cultural Diversity Day
This document from the United Nations contains a lot of great information about the importance of cultural diversity and the importance of maintaining good dialogue between members of different cultures. It also discusses the importance of religious diversity as part of culture diversity. If you would like to include examples or discussion of cultural diversity activities in your essay, this document is a particularly useful resource for you.
Diversity in the Workplace
The author of this article does a great job of exploring the current state of diversity in the workplace, and also discussing how this issue will be dealt with in the near future. It covers diversity as it relates to race, gender, age, disability, sexual orientation, country of origin, and diversity issues that are multi-faceted. This resource is text heavy and full of links to other studies and cases. This is a great source for a student who wishes to study the issue of cultural diversity as it affects workers.
Cultural Diversity and Law Enforcement
Here is an article that deals with the law enforcement issues and challenges as they relate to the topic of cultural diversity. It addresses the challenges faced by law enforcement officials. It discusses the mosaic theory vs. the melting pot theory. It even discusses diversity from a historical perspective. The author(s) of this document even address the proper role of law enforcement when dealing with undocumented immigrants. A student majoring in or taking a class in public policy, law, or criminal justice will find this a great source around which to base their essay writing.
Cultural Diversity and Education
This is a great blog post that is specifically directed to educators. It points to several resources that teachers can use in their lesson plans to address culture diversity and to encourage a sense of acceptance and inclusion among their students. Not only is this a great resource in and of itself, it also links to a variety of other resources that address diversity and education.