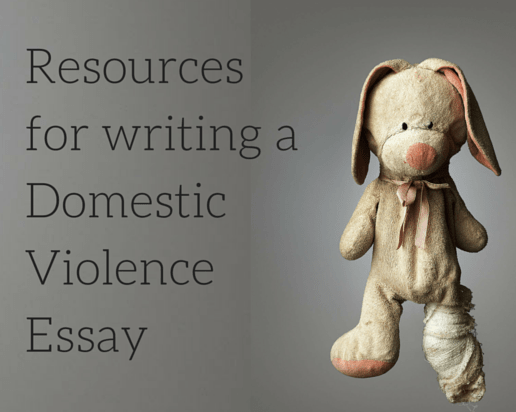 By: Marie Fincher
October 29, 2015
Excellent Resources for Writing a Domestic Violence Essay
If you are student in a class that is related to social services, health care, law enforcement, psychology, education, or gender studies, there is a good chance that one of the topics you will address is domestic violence. In most cases, it means that you will inevitably be asked to write a domestic violence essay. When this happens, your challenge will be to do justice to this very serious topic by writing a domestic violence essay that will help others by educating them. You can best do this by presenting as many relevant domestic violence facts as possible. In order to help you do this, we have located a few excellent resources that you can use as you write your essay.
Sources for Domestic Violence Facts
If you want to truly educate your readers, provide them with solid facts and statistics. Here are some places where you can find these statistics:
The American Bar Association
The United States Department of Justice
The Office on Violence Against Women
Safe Horizon
All of these sources contain statistics on domestic violence, and facts about domestic violence that you can use in educating your readers on the definition of domestic violence and the various types of domestic violence.
Help for Domestic Violence Victims
One of your options when writing an essay on domestic violence is to explore the organizations that offer help to victims and learn what they do. These are organizations that help victims directly, obtain funding for programs, work with social service and law enforcement agencies, and lobby for better domestic violence policies. Here are few resources you can use:
National Coalition Against Domestic Violence
Your States Department of Human Services/Your Local Health Department
Family Violence Prevention and Services Resource Centers
Domestic Violence Education
Education is one of the most important tools when it comes to reducing domestic violence. Unfortunately, many people cannot even answer the question, what is domestic violence? Here are some resources on domestic violence education that you can use to learn more about the subject, or that you can reference in your essay to help your readers learn more.
The Domestic Abuse Project
Futures
Stop Violence Against Women Training Materials
Educational Material on Teen Dating Violence
Domestic Violence Essay Ideas
Let's close things out with a few essay ideas, questions, and prompts. Hopefully, a few of these will serve as good inspiration
What can schools do to educate people about domestic violence?
What resources are available to male victims of domestic violence?
What is life like in a domestic violence center?
How do doctors help patients they believe are victims of partner violence?
Explore what a local organization is doing to combat domestic violence
What is the best alternative for dealing with domestic violence perpetrators, counseling or jail?
What impacts does domestic violence have on the community?
What are the best early intervention programs for those at risk for becoming violent?
What more needs to be done to deal with violence in same sex relationships?
How can young men and women help friends if they suspect they are victims of domestic violence?
Is enough being done to help elderly victims of domestic violence?