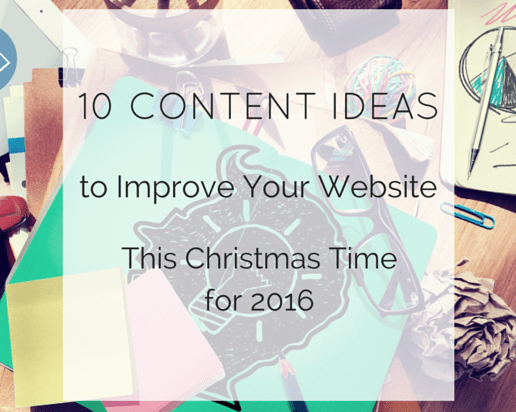 By: Marie Fincher
December 17, 2015
10 Content Ideas for 2016
December of course is a busy month. There is Christmas with all of the decorating and shopping; there are end-of-year books to balance; and, if you are selling a product or service, you have probably had a major campaign in the works to market and to draw customers in with savings and discounts. No doubt, you have already incorporated some Christmas designs into your website for the holiday season.
But Christmas will soon be over, and you need to look toward 2016. This is the perfect time to review your site and its content, as well as your outreach strategies, to make sure that as the New Year rolls around, you will have everything in place to make 2016 the best year ever. Here are 10 tips for that review.
Make Certain that Your Site is Compatible with All Devices
If you have added new content that will stay past the holiday season, have you tested it to ensure that it is compatible with mobile devices? This is the time to do just that. And, if you plan to add more new content, the testing has to be ongoing.
Review All of Your Content for Errors
It's easy to miss grammar and spelling errors in the "heat of the moment" of writing new content and getting it up as quickly as possible. So, take some time, maybe between Christmas and the New Year, to go through all of your content and make those corrections. You really want well-written text.
Review the Descriptions of Your Products and Services
Are the descriptions boring; do they not provide enough information; are they too lengthy? Remember, Internet customers want concise yet complete descriptions – the do not want to have to dig for information.
Are Their New Audiences You Can Tap?
Who is on your competitors' sites? You can use some great tools like Buzzsumo to find those competitors, and other analytics tools to find their target audiences. Check out their social media pages too. It's time to make some plans for enlarging your audience in the New Year.
Search Through Your Blog – Re-Constitute Some of Those Old Posts that were Popular
Look at your posts from 6 months ago and earlier. You probably had some good content that you now resurrect. Change it out with something new. If it was primarily text, create an infographic, maybe even an interactive one. You can use such tools as Canva and Snapapp to do turn it into great media. And if you have several relat4ed posts, pull them and create an e-book.
Get Rid of Irrelevant Stuff
You may have content on your site that is no longer relevant and that you need to change out to make it more engaging. So while you are reviewing for grammar and spelling ask yourself if there is a better way to present that content or if it is even necessary. Sleek simple websites are more popular with customers who are in a hurry.
Does Your Brand Have Consistency all over the Web?
Are your colors, logos, and other elements that promote your brand consistent across all of your social media platforms? They should be. If not, get that corrected.
How Can You Involve Your Audience More?
Now is the time to make plans to engage your target audience far more than you have in the past. Line up some contests, some surveys, some polls, and other activities that will engage them and want to share with their audiences. Offer discounts for taking part in a survey and providing their email addresses. Ask them for photos that show them using your product(s). Have a "customer of the week" showcase. There are just some great ideas out there that will help develop stronger relationships.
Make a Concerted Effort to Grow Your Email List
If people are still ordering for Christmas or for an after Christmas sale, offer extra stuff (buy one, get one half-off, etc.) in exchange for an email address. Offer an e-guide or e-book for an email address. Hold a contest with a great prize – they have to come to your site and register for it by giving their email address or they have to share the contest before they can enter.
Upgrade Your Media on Your Site
Are your pictures and images kind of old? Get new ones. Add some color. And maybe dump the images and pictures that make your site look "crowded." A site that is too busy turns visitors away.
Yes, Christmas is a jolly, joyous season. But it is also the season to look forward to the New Year and the many ways that you can improve your total presence on the web. Go through this list carefully and see what you can do!