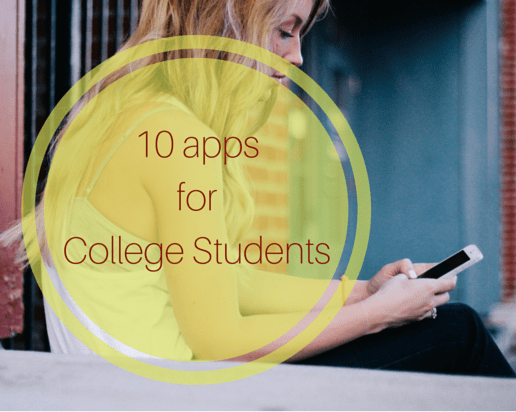 By: Marie Fincher
September 21, 2015
Top 10 Apps for College Students
If you aren't reading this post from your smart phone or other device, chances are that you've got a web enabled device within arms reach. These handy little gadgets are great for keeping in touch with friends, using social media, and sharing via Snapchat and Instragram. They can also help you to become a much better student. That's right, there are many apps that have been designed to make life better for college students. Even better many of them are free. Not sure which apps for college students are worth the time? Not to worry, we have compiled this list of top 10 apps to help you select the most useful apps for your life.
1. EasyBib
Entering in citations might be the most tedious and frustrating aspect of writing a research paper. This is even more true if you aren't using an online source. If you dread this task, give EasyBib a try. All you need to do is scan the bar code on the back of the book and you will get the citation in MLA, Chicago, and APA format.
2. Circle of Six
This is an app that was designed to help keep students safe. Simply add in 6 trusted contents, or just add contacts in more than once if you don't have 6 people to add. Then, in any situation where you feel unsafe, you can use the app to send out an all points bulletin to your designated contacts to come get you. There's no need to call or message, your friends and family will receive your location information. If a situation because especially dire, you can also use the app to contact emergency personnel.
3. SelfControl
Do you find yourself hitting Facebook and Tumblr when you should be hitting the books? Internet distractions can be hard to resist for even the most self-disciplined students. SelfControl allows you add internet domains and email servers to a blocked list for a period of time. Until that period of time ends, you simply will not be able to access the designated websites.
4. EverNote
EverNote is arguably one of the most popular apps available to students today. This popularity has been well-earned. EverNote gives students the ability to take notes, store them in separate notebooks, and then store those notebooks in related stacks. The result is that you can build your own easy to search library of information from all of your classes. You can also create a general purpose notebook as your default notebook. This will allow you to quickly enter notes in on the fly and then move those notes to a more appropriate place.
5. Wolfram Alpha
Wolfram Alpha is a new, and absolutely fascinating take on the standard search engine. It uses dynamic computations to determine the information that you need based on your search criteria; can use the app to retrieve scientific formulas, historical facts, or even information on the current generation of Pokemon.
6. Mint
Financial independence is not all that it is cracked up to be. If you are having trouble tracking expenses or otherwise keeping your money straight, Mint is the next app you should download. You can use mint to track your spending and keep yourself on the right track financially.
7. StudyBlue Flashcards
This is definitely one of the best study apps for college students that we have seen. Everyone learned in elementary school that flashcards are one of the best ways to memorize facts. The only problem is that nobody wants to take the time to make them, and then keep track of them. StudyBlue makes the process easier by doing that for you. If you're working from a popular textbook, be sure to check out the StudyBlue flashcard database. There is a great chance that somebody else has created a set of cards that you can 'borrow'.
8. Dragon Dictation
Dragon dictation is a voice recognition app that takes your spoken word and translates it intotext. The more you use this tool, the better it can recognize your voice. You can use Dragon to dictate directly into word processing software or to send status updates directly to your social media accounts. If you are more at ease speaking than writing, this is the perfect app for you.
9. Dictionary.com
Let's face it. This is already your go to website when you need the definition of a word, spelling help, or when you are challenging somebody while playing Scrabble. So, why not take it with you. The app gives you quick access to definitions, word origins, synonyms, and antonyms.
10. iTunes University
Does your curiosity expand beyond what you are being taught in your classes? If so, check out the free educational offerings available through iTunes University. You will find thought provoking content from some of the best colleges on the planet.