/

/

How to Write a Conclusion
YOUR PERFECT GUIDE FOR HOW TO WRITE A CONCLUSION
How to Write a
Conclusion
Table of contents
---
Defining the Conclusion
So much is said about introductions to essays and papers. This is the writer's chance to engage his readers with a "big bang" opening and to present his thesis statement. Less is usually said about the conclusion. But consider this: while the introduction is the first impression, the conclusion is the last impression you leave with your reader. It is your chance to impress, to provide a final proof statement, to enlist support and/or call to action.
So, with all of these possibilities, how do we define the conclusion? In the words of the Harvard Writing Center, it is establishing closure and, as well, closing off the discussion without really closing it off. Your reader needs to leave satisfied that you have made your point but left with something to think about too.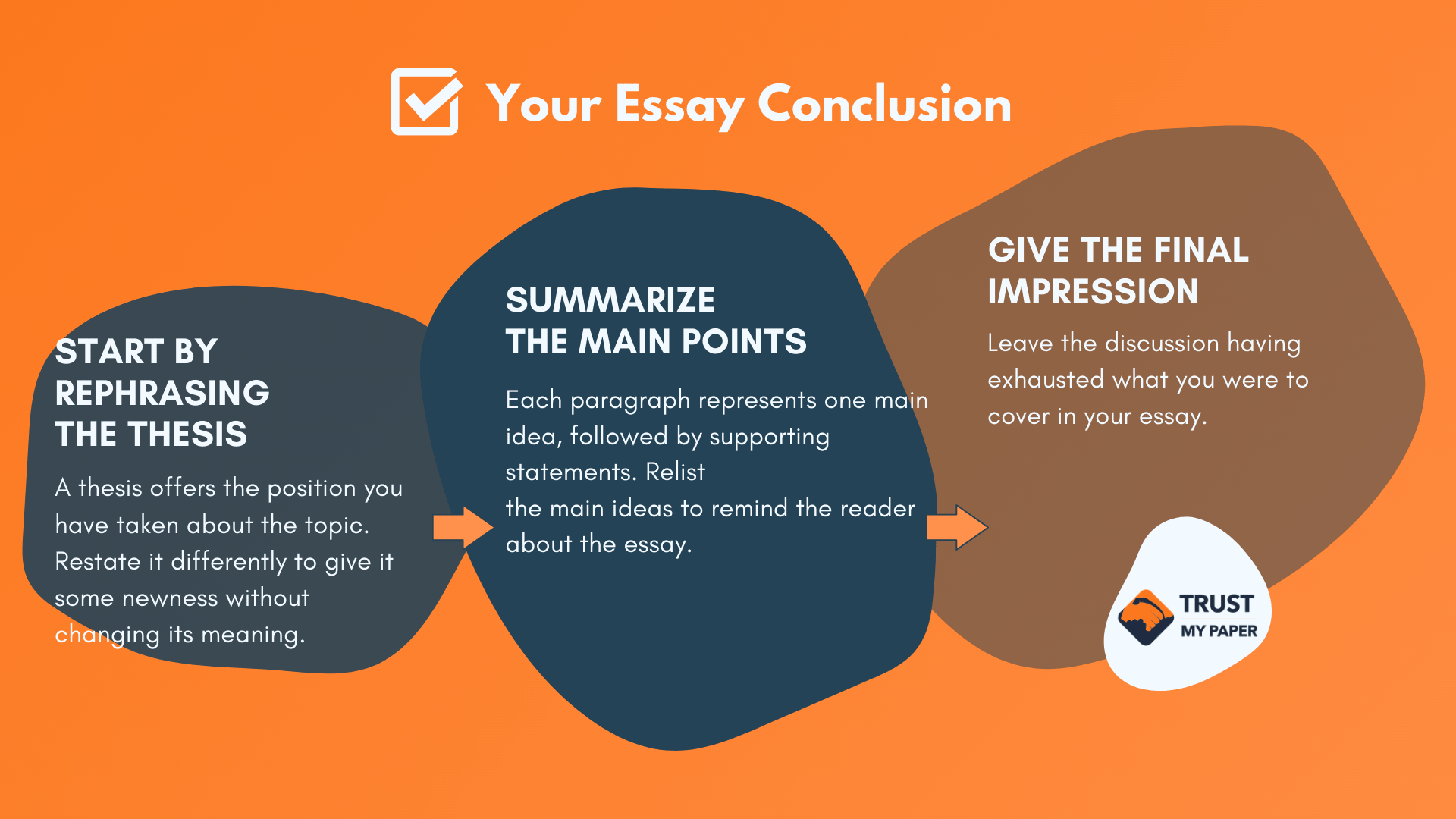 Purposes of Conclusions
The purpose of your conclusion depends upon the type of essay or paper you have written. Consider just a few conclusion examples.
If your piece of writing has been largely informational or explanatory, for example, you will probably want to conclude by summarizing your main points and referring back to your thesis statement.

You can also explain the larger context to which your essay relates. If, for example, you have written an essay on the causes of the Great Depression, are there some of those conditions that we are seeing today?
If you have done a pretty major piece of research, you might identify some constraints of your study and point the reader in the direction of future research that might be conducted.
If you have written an argumentative or persuasive piece, re-state your position with authority and perhaps provide a call-to-action.
Here is probably the key thing you want to do when your essay and its introduction are finished. "So what?" Answering that question may give you good thoughts about what your conclusion should state.
Great Conclusion in a Sample Essay on Informatics
By:
Marie Fincher
Marie has background in marketing, technology and business intelligence. She enjoys writing about data science, BI, new marketing trends and branding strategies. On TrustMyPaper she shares her practical experience through academic writing.
Request this writer
Tips on How to Write a Conclusion for an Essay
Here are several tips that should help in writing a conclusion paragraph:
Decide which type of ending best fits the type of essay you have written – a warning? A call-to-action? A prediction? Putting the content into a larger context? Remember the "so what" question.

Keep the length appropriate for the length and complexity of your piece. For a 5-paragraph essay, for example, you will want no more than 5-7 sentences. For a longer research paper, you will obviously write more.

If you are summarizing the main points, write them differently than you did in the body

Refer back to your thesis statement, only state it differently

Be authoritative – you researched and wrote this piece. You have more knowledge and understanding than your reader. Part of how to write a strong conclusion is taking ownership of your points and ideas.

End with a bang. In the introduction, you captured attention. Your conclusion must make a big final impression. Sometimes, using short, simple, sentences at the end do this. "We are killing our oceans."

There are also some things to avoid.
Don't just restate your thesis. It's boring.

Don't just summarize the essay – that's pretty boring too

Don't apologize – "I'm not really an expert, but…"

Do not use terms such as "in conclusion," or "to summarize." These are weak and trite.

Don't add anything new. But you can use a quote from a famous person that relates. "In the words of Albert Einstein, 'if we decimate our bee population, the human race will die out within 4 years.'" (Yes, he actually said that).
Example Conclusions
It's always a good idea to read some essays or papers on the same topic as yours. In this case, it would be a great idea just to read the endings, to get ideas on strong ways to conclude an essay. Doing a simple Google search for essays on your topics will bring up more than you can handle.
In summary (just kidding – don't end your essay this way), here's a great infographic that will provide the do's and don'ts of a conclusion: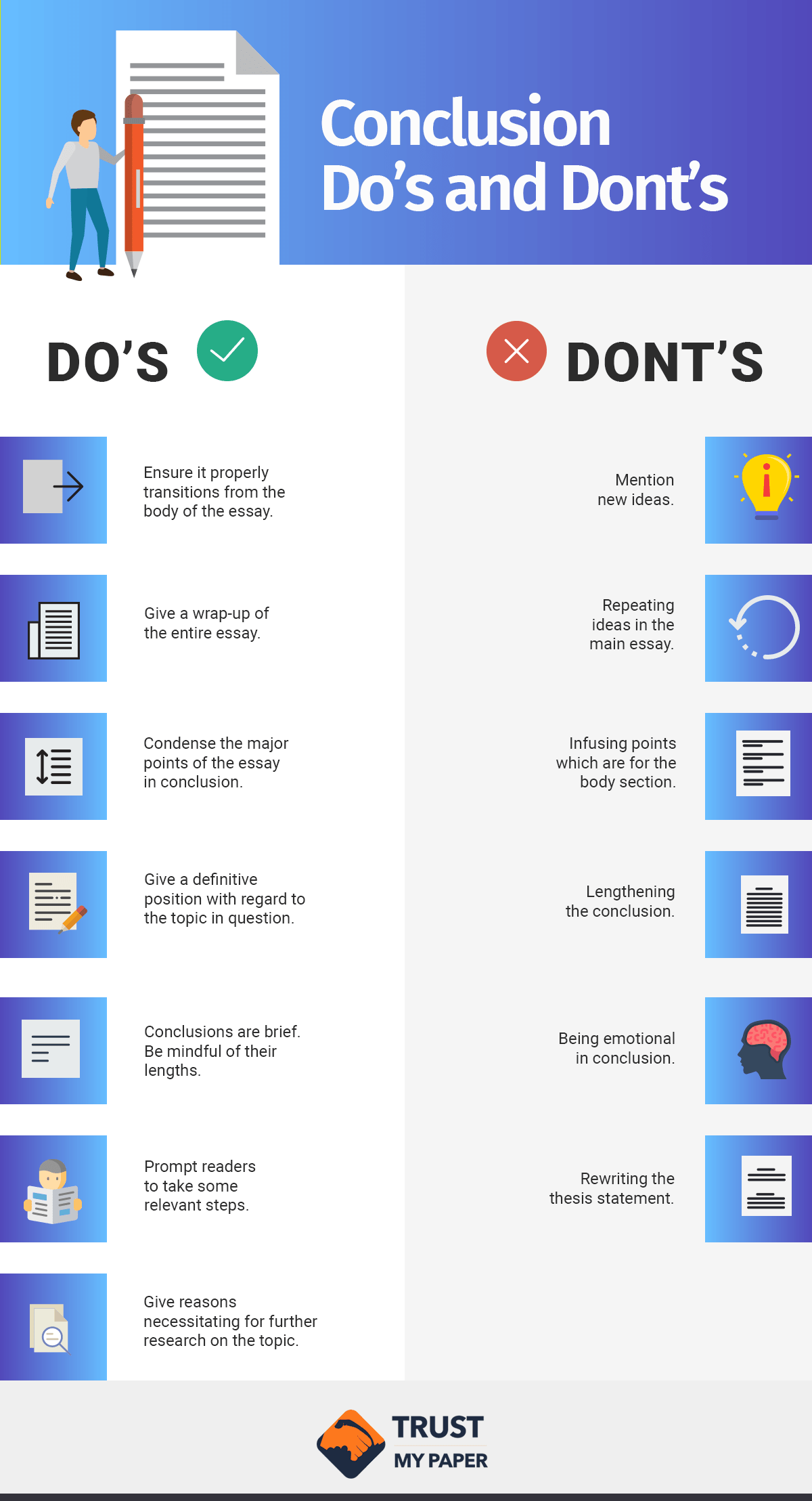 External links
Ending the Essay: Conclusions. Harvard.edu. https://writingcenter.fas.harvard.edu/pages/ending-essay-conclusions. Published 2019.

Search. Att.net. http://dnserrorassist.att.net/search/?q=http%3A//www.sparkcharts.sparknotes.com/&r=&bc=. Published 2016. Accessed November 5, 2019.

Find Free information about Things with examples here. World of Example. http://www.ponywatches.com/. Published 2019. Accessed November 5, 2019.